Metal Roofing Saint Petersburg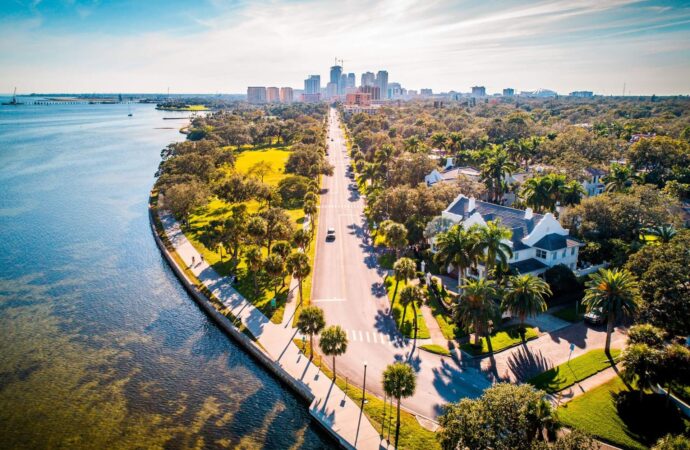 Expert Metal Roofing Saint Petersburg Contractors
---
At Saint Petersburg Roofing we provide quality roofs at an affordable price. We are your leading metal roofing solution for all your roofing needs. Looking for a long-term, guaranteed roofing solution for your home or business? Then look no further than us! Look to the future of clean, stylish, and elegant home roofing. Metal roofing can give a range of advantages for business and home buildings in the region of Saint Petersburg, Florida, including longer roof lives and enhanced weather safety. Look to the experienced pros at Tampa Metal Roofing Group if you are considering a metal roof for your building. We have years of experience in the region and are dedicated to delivering the greatest possible standard of service. And, from copper to standing seam, our engineers have the knowledge to install or repair any sort of metal roof.
What's so special about a Metal Roof?
---
Metal roofs are very durable and are becoming increasingly popular for residential and commercial buildings. The best part is that they can be installed on top of existing roofs, which simplifies the process even further. With a lifespan of over 50 years, metal roofs often last longer than other options, making them more cost-effective as well. 
Some of the advantages of metal roofs include:
Excellent resistance to most weather conditions

Built-in cooling owing to their reflective characteristics

Lower maintenance needs

No need to worry about fading with a proper coating applied
Because we are proud of the quality of our metal roofs, our workmanship guarantee lasts more than long enough and allows you to get the service you need without the extra cost.
Materials we work with
---
We here at Metal Roofing Saint Petersburg want to show you how getting a metal roof is the best thing for your home or commercial building. We don't want you to shy away from this incredible roofing material. Metal roofs in Tampa and Saint Petersburg, like all the roofs we install, are durable and long-lasting.
Metal roofs today have been created to look just like traditional products such as asphalt shingle, clay tile, cedar shake, and slate. But unlike shingles that you might have seen in the past. Metal roofing comes in a multitude of colors and finishes to suit the style of your home or building, like clay and concrete tiles.
Metal roofing in Saint Petersburg is also a very cost-effective alternative. While the initial cost of a metal roof is higher than most other roofing materials, a metal roof may last for a lifetime. This is compared to an asphalt shingle roof, that typically requires reroofing every 10 to 20 years.
These are a few Metal Roofing Options
---
Now that you can see the many advantages of installing a metal roof, you're going to want to choose the best type of metal roof for your home. Below are two excellent metal roofing choices for your home or commercial building in Saint Petersburg, Florida. 
Standing seam roofs are equipped with ribs that stand where the panels connect. These enable moisture to run down the panel rather than into the seam. As such, the seams continue to stand out, making them more visible.

Corrugated steel roofs have ribbed metal sheets which are straight attached to the sheathing of the roof. This was used only on industrial and farm structures in the past. It is definitely gaining popularity today, though.
Contact us today and we'll start the process in getting your metal roof installed.
Here is a list of the services you can get at Tampa Metal Roofing Group:
There are so many areas or regions where we offer these services with most of them being cities.
---
However, if you need any of these services, you need to contact us. The list below comprises the areas where we offer these services.